Irving High School

In Memory
Troy Franklin Pierson Jr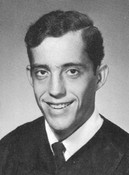 Classmate Troy Franklin (Frank) Pierson, Jr passed on March 30, 2013.
Troy was born in Lubbock, Texas to Troy Franklin Pierson, Sr. and Patsy Marie Sutton, both preceded him in death. He is survived by his wife of 39 years, Rhonda Marie Lofton Pierson; his two sons, Nick Pierson and his wife Chrissy, Stephen Pierson and his wife Erin; daughter, Marisa Pierson; 6 grandchildren, Tyler, Haley, Madison, Aubrey, Drew, Asher and three sisters, Linda Milligan, Barbara Richardson and Sandi Ward. His sister, Brenda Sue; step mother, Lillian Pierson and step father, Ben Sutton also preceded him in death.
Frank served as a Medic for the 7th Calvary 1st Division in the United States Army. He was a plumber for B & W Plumbing for 21 years and was currently employed by Justin Dorsey Plumbing. Frank was an elder and ordained Minister at The Lighthouse Fellowship of Danville.
Calling will be from 4:00-8:00 pm on Wednesday, April 3, 2013 in The Lighthouse Fellowship 1200 Sycamore Lane Danville. Funeral service will be held at 11:00 am on Thursday, April 4, 2013 in the church. Burial with full military honors will be in Danville South Cemetery.