Irving High School

In Memory
Norman Hughes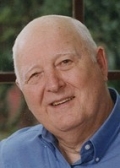 Norman Hughes, 82, passed away on Wednesday, June 29, 2011. Born in Stephenville, Texas on September 29th, 1928 and growing up in Ft. Worth, he attended Paschal High School and TCU graduating with a BS Degree in 1952 and ME Degree in 1955. At TCU he met and married Dorothy Phillips, the love of his life. As a TCU Football Letterman he served as a team captain in the 1952 Cotton Bowl.
He was a coach, educator, and school administrator from 1952 to 1967 in Cleburne and Irving, Texas. In 1967 the family moved to Houston where he was with Holt, Reinhart & Winston (CBS Publishing) from 1967 to 1987. A faithful member of the Church of Christ he helped establish the Fleetwood Congregation in 1976 where he served as an Elder for 31 years.

Celebrating 60 years of marriage this past June 1st Norman is survived by his wife, two sons; Geary and his wife Rhonda, and Greg and his wife Sandra; grandchildren, Michael, Morgan and his wife Amy, and Marshall, and by his brother Bobby Hughes of Ft. Worth and five nieces and nephews.
The Funeral is at noon on Saturday, July 2, 2011 at Fleetwood Church of Christ, 15935 Katy Freeway. Remembrances should be made to the Gospel Broadcasting Network, 3969 Cloud Spring Dr., Ringgold, Georgia 30736.