Irving High School

In Memory
Lucille Dorety (Casey)
Lucile "Sissy" Casey
January 7, 1920 - January 10, 2011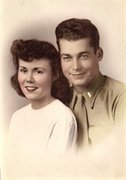 On January 7, 1920, a girl child was born to W.B. (Uncle Bill) and Clara May Dorety. We are sure she had a given name but everyone just called her Sissy. She grew up in rural West Texas Dallas County in a very small town call Irving. Her ancestors were among the first to settle in the area. Sissy was a child of the depression, a member of a family that knew little but hard work and often hard times. She was the first to graduate from high school and to attend college. Her degree in English from Texas Women's University was funded by working in the school cafeteria. The additional money that college required was supplied by coon and opossum hides. Bill Dorety worked all day at the family gas station and hunted all night for furs to keep her in college. She graduated from TWU and accepted a position with IBM in New York. However, when WWII broke out she returned to Texas to work for American Airlines as a cargo loading supervisor.
On December the 7, 1944, she married a strikingly handsome Marine aviator who had just returned from the Pacific War and so began a sixty-six year love affair with Arthur Casey. After the war, "Casey" returned to college and finished his Masters Degree playing football for East Texas State University.
On January the 12th, 1947, Arthur "Skip" Casey, Jr. was born, Sissy's only child. About the same time Casey began his coaching career. He coached in Grand Prairie, Mineral Wells, Rosebud and finally moved home to Irving in 1954. Casey became a school administrator and Sissy started her career as an educator. She taught English, Civics and Government to hundreds of young men and women at Irving High School.
Irving High School became a 4A high school about 1959. 4A high schools in the fifties and sixties in Texas did not compete in girls athletics. There were very few opportunities for young women to participate in school activities. Sissy was not pleased that young women had been excluded. She and Betty Strickland, to offer more opportunities for young women, established the Toy Tigers. The Toy Tigers were one of, if not the first precision high school dance team in the state. The Toy Tigers were the Toast of Irving and soon recognized statewide as the Best of the Best.
Sissy taught the same way in class or the gym. What mattered was doing your best. She taught not only subject matter or dance but also pride, commitment, and excellence. Woe be it to the young man or woman who did not give Mrs. Casey their best effort. She was five foot tall and weighed 98 pounds and was not to be messed with. She was widely loved and quietly feared in the halls of I.H.S.
Most of the people who read this have heard these words – "That's not good enough. Let's do it again – and DO NOT ROLL THOSE EYES AT ME YOUNG LADY."
She was Sis to Casey, her close friends and her only grandson, Sean.
She was mom to her only son, Skip.
And she was Mrs. Casey to most of the rest of the world.
Visitation will take place prior to the Funeral Service from 10:00 until 12:00 noon on Thursday, January 13, 2011 at First United Methodist Church in Irving with Funeral Services starting at 12:00 noon. Interment will follow at Oak Grove Memorial Gardens.