Irving High School

In Memory
Coach Ronnie Bell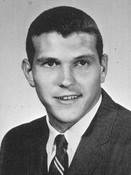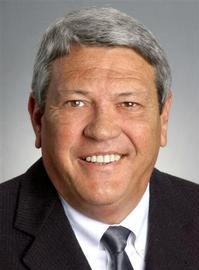 Ronald "Ronnie" W. Bell passed away on Thursday, December 1, 2005 at 4:00 AM. Ronnie valiantly fought for 16 months against his most difficult opponent, Acute Myeloid Leukemia.
Ronnie was born in McKinney, Texas on March 19, 1944. He is the son of Wanda Honea and Glen Bell of McKinney, Texas. Ronnie married Linda Clark December 21, 1962 and began a life-long adventure of almost 43 years. Ronnie Bell was involved in athletics since he was in the fifth grade. He strongly believed that coaches and those affiliated with sports are highly dedicated to teaching, training and the preparation of young men and women for the game of life. Coaches and athletes have always played a large part in his life and many wonderful friendships have been formed as a result of his career. Having three daughters and no sons, he always considered the players as his sons.
A McKinney High School graduate, Ronnie lettered in baseball, track and football. An All-District player, Bell played in the 1962 THSCA All-Star Game. He attended Southern Methodist University, Hardin Simmons University and North Texas State University earning his bachelor and masters degrees in math and secondary education at North Texas State. Bell began his coaching career in 1967. After serving as a graduate assistant at North Texas State University in 1971, he and the family moved on to help open Clear Lake High School in 1972. He returned to North Texas State as assistant coach from 1973 to 1976. Ronnie landed his first head coaching job in 1976 at Clear Lake High School. Bell made a brief career change to sporting goods sales in 1980. Finding his true calling was high school athletics, Bell became the head coach at Fort Bend Dulles in 1982 where he remained for 13 years. During this tenure, the Vikings advanced to the state playoffs six times, reaching the state championship game in 1991 where Killeen was victorious 14-10. Bell was head coach and athletic director at Nacogdoches from 1994 - 1996. In 1996 he became athletic director for the Alief ISD and held that position until his death. Coach Bell has been honored to serve on the Board of Directors for the THSCA, Director of the Greater Houston Coaches Association and President of GHFCA in 1992. He was the Houston Touchdown Club Coach of the Year in 1991 and was inducted into the GHFCA Hall of Honor in 1997. From 2001-2003 Ronnie served as Director of the Texas High School Athletic Directors Association. On November 4, 2005, Ronnie was recognized among three other McKinney High School graduates as a Distinguished Alumni of McKinney High School. Ronnie and his wife Linda have been married almost 43 years.
Their family includes Roni and Britt Gralka of Denver, Co., Jamie Bell, of The Woodlands, and Jody and Ty Hess of Bastrop and beloved granddaughters Cameron and Taylor Gralka. Ronnie is survived by his father and mother Glen and Wanda Bell of McKinney, Texas, sisters, Nancy Bell of Fort Worth, Glenda Magnuson of Fairview, brother-in-law Robbie Clark and his wife Karen of McKinney. Nephew: David Cooper and wife Angie. Nieces and their families: Janet and Brian Cobble, Jenny Clark, Kendyl Clark and Shanel and Cody Butler, Amy Robinson, Vanessa Brownlee. Great nieces Zoe and Mia Cobble, Taylor Butler, and Halee Robinson. Great Nephews: Clayton and Ty Cooper Special thanks to Jim Smith and Buddy Hopson for their great friendship. Most sincere appreciation to Alief ISD family: Louis Sterner, Paula Smith, Laura Dawson, Rick Elazanda, Judy Price and Victor Lavra, as well as the Board of Trustees, administrators, coaches, and teachers.
A graveside service will be held at 2:00 p.m., Sunday, December 4, 2005, at Ridgeview Memorial Park. The family will receive friends prior to the service at 1:00 p.m. for visitation at Turrentine-Jackson-Morrow Funeral Home.