Irving High School

In Memory
Pam Berry (Stoddard) VIEW PROFILE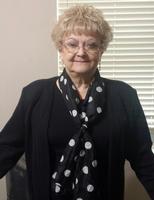 Pamela Joyce Berry Stoddard, a meticulous legal assistant and life-long Texan, passed away peacefully and entered into her heavenly father's arms Tuesday, February 19, 2019 at her home in Anna, TX. She was born in Lamesa, TX December 1, 1950 to Alvah Eugene Berry and Thelma Pearl McRae.
Pam was raised in Seminole, TX until the age of 12 when they moved to Dallas. She graduated from Irving High School in 1969 where she played the clarinet in the marching band. Pam was a spiritual woman involved in many church activities, including playing the piano and organ and singing in the church choir. Music was always an important part of her life and she made sure her children were exposed to it in many different ways. She never missed a piano recital, band concert, or activity her children, nieces or nephews were involved with. One of her favorite pastimes was attending "Friday Night Lights" rooting for her children, nieces and nephews from the stands of their football games, decked out in their school colors to show her team spirit. Pam was a loving mother, sister and aunt & she will be deeply missed by her friends, family, and all who knew her.
Pam is survived by her 3 children: Kevin Crumby of High Island, TX, Kyle Stoddard of Anna, TX, Kristen Wessels and her husband Jeremy of Katy, TX, her granddaughter, Alyssa Wessels, who attends Sam Houston State University in Huntsville, TX, her sister, Karen Nations of High Island, TX, her nieces Stacey Nations of High Island, TX, & Christy Wray and husband Jimmy Wray of Kaufman TX and nephews Dustyn and Dalton Tucker and niece Deanna Gossett husband TJ Gossett and kids Kaison and Addylinn Gossett, nephew JJ Wray and niece Brittinie Arrowood husband Robert Arrowood and daughter Kelsie Arrowood. Pam is preceded in death by her parents.
Graveside services for Pam, will be held at the Van Alstyne Cemetery and will be announced at a later date. In lieu of flowers donations may be made for funeral expenses to Scoggins Funeral Home & Crematory, 637 W. Van Alstyne Pkwy, Van Alstyne, TX; 75495. 903-482-5225.
To send flowers or a remembrance gift to the family of Pamela Joyce Berry Stoddard, please visit Scoggins Funeral Home & Crematory's Tribute Store.
http://m.scogginsfuneralhome.com/obituaries/events?obituaryId=4197550
Click here to see Pam's last Profile entry.