Irving High School

In Memory
Regina Nolentubby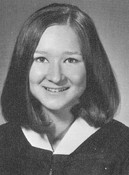 Our classmate Regina Nolentubby died in 1973 while outside Guadalajera, Mexico while on vacation with a friend. At the time of the accident, Regina had been studying at the University of Texas while simultaneously studying at the Nursing School at Brackenridge College.
From Joette:
I don't know if you were a classmate of hers - if you were you know what a sweet angel she was. She loved her friends at Irving High. I am her younger sister and there isn't an hour that passes that I do not think of her. Should anyone who knows her want to get in touch-feel free to give them my email address. Gina always believed you needed to let people you love know how you feel.
In honor of her-tell someone you might have forgotten to tell lately that you love them. I know all too well it might be your last chance.
Click on the following to send an email to Joette Nolentubby.