Irving High School

In Memory
Gerald Jackson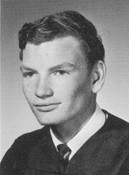 Gerald Wayne Jackson of Irving passed away June 8, 2019. He was born on December 28, 1950 to Raymond Jackson and Mary Elizabeth (Roberts) Jackson. Gerald is preceded in death by his parents and leaves behind to cherish his memory sister Diane Nides and husband Tony; brother Greg Jackson and three nephews.
The family will receive friends for a short visitation prior to the graveside service at Restland Cemetery on Monday, June 24, 2019 at 11:00 am. To send flowers to the family of Gerald Wayne Jackson, please visit our Heartfelt Sympathies Store.
Please click HERE to go Ben F. Brown's Memorial page for Gerald.