Irving High School

In Memory
Jesse Smith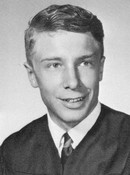 Jesse Smith
Jesse William Smith, caring father, son, and brother, passed away on November 21, 2022, at age 71. Born in Austin on February 24, 1951 to Frank Marcus Smith and Margaret Goodlett Smith, he went to school in Irving and spent much of his young life on his family's ranch near Llano. He went to college at the University of Texas at Arlington, majoring in biology, while driving back down to the ranch every weekend to check on his grandmother. For the rest of his life, he always loved telling old stories from his times at the ranch.
After graduating, he got a career working at the UT Southwestern Medical Center, where he helped advance medical science for 25 years. After his well-earned retirement, he turned his efforts to studying his own roots, developing an interest in genealogy.
His life was always guided by a strong desire to understand the world, as well as a need to do right by others. He was a proud Texan, and was especially in love with the hill country. He will meet his father and oldest son, Jeremy Shafer Smith, in heaven, while being survived by his mother, his other two sons, Matthew Wilson Smith and Andrew Derrick Smith, and his siblings, Mark Edward Smith, Maggy Smith Trevino, and John Henry Smith.
In lieu of flowers, donations can be made to: the National Park Trust (https://parktrust.org) or the Valley Spring Volunteer Fire Department.
Thanks to Larry McLaughlin, Larry Davis and Salty Galvis.