Irving High School

In Memory
Phillip Petty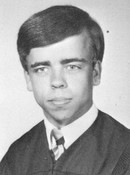 Phillip Ray Petty of Irving passed away June 7, 2010.
He was born on August 20, 1951 in Gilmer, Texas. He owned and operated Arton E.C.S. and was a member of the South MacArthur Church of Christ. He is survived by wife Teri Petty of Irving; son Jeff Grey of Arlington; daughter Kim Grey of Irving; daughter Tara Lopez and husband Vince of McKInney; son Zachary Perry of Irving; and sister Carol Beene and husband James of Nacogdoches.
The family will recieve friends from 5 to 7 PM Wednesday June 9, 2010 at South MacArthur Church of Christ. Funeral services will be held at 10:00 AM Thursday at the church auditorium with burial to follow at 3:30 PM at Pleasant Hill Cemetery in Pritchett, Texas.
(DMN - June 9, 2010)