Irving High School

In Memory
James Kendrick Jr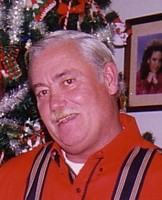 James L. Kendrick, Jr. of Irving, passed away Wednesday, June 30, 2010.
He was born October 13, 1950 in Tyler. He was an excellent baseball player from Little League through High School. James worked with his dad and two brothers in the J.L. Kendrick & Sons Asphalt Paving Company. He was preceded in death by his father James L. Kendrick and brother Bobby Joe Kendrick.
Survivors include his wife Rita Kendrick; mother Opal Kendrick; son Steven Kendrick; daughter Melissa Sharpe; brother Billy Kendrick and wife Tina; grandchildren Cody Sharpe, Payton Kendrick, Cheyanne Sharpe, and Tanner Kendrick; a host of nieces and nephews; and many, many friends.
Funeral services will be held at 10 AM Saturday, July 3, 2010 at Brown's Memorial Chapel with Rev. Richard Norris officiating. Interment will follow at Oak Grove Memorial Gardens. The family will receive friends 6-8 PM Friday at the funeral home.