Irving High School

In Memory
Arvill Noel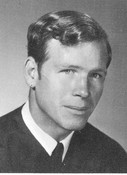 Arvill M. Noel
Date of Death: November 25, 1993
Arvill M. Noel, 44, of
Irving
died Thursday at his home of natural causes.
Mr. Noel was born
Nov. 8, 1949
in
Arkansas
. He worked for BAC Business Machines in the sales and service office for 10 years.
He is survived by his wife, Jennifer of Irving; sons, David Noel and Bryan Noel, both of Irving; brothers, Robert Noel of Irving, Mike Noel of Irving and Charles Noel of Pennsylvania; sisters, Elizabeth Gean Perry of Winnsboro, Mary Freeman of Oklahoma and Ann Blair of Dallas; and parents John and Betty Noel of Irving.
Services were held Saturday at Donnelly's Colonial Chapel, with the Rev. Joe Pool officiating. Burial was at
Oak
Grove
Memorial
Gardens
.
The family requests memorials be made to the American Cancer Society,
P.O. Box 141274
,
Irving
,
TX
75014
.
Arrangements were handled by Donnelly's Colonial Funeral Home.