Irving High School

In Memory
Terry Wilson Greer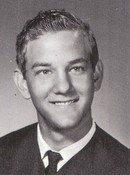 Terry W. Greer
Date of Death: October 21, 19'72

Funeral services are pending for Terry W. Greer, 21, 515 MacArthur. Arrangements will be announced by Colonial Funeral Home.
Greer, stationed with the Navy, was killed in a car-truck crash in Beeville Saturday morning.
He was a graduate of
Irving
High School
and a member of
Sherwood Park
Baptis t
Church.
Survivors include his parents, Mr. and Mrs. W. W. Greer; brother Lanny and a sister, Mrs. Delores Ann Craft of
Hurst
.