Irving High School

In Memory
Edward A Dunaway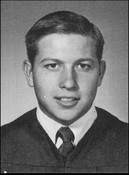 Edward Alan Dunaway, age 57, a resident of Fort Worth, Texas, died on August 4, 2008 of Cancer and diabetes.
Raised in Irving, Alan was active and excelled in sports from YMCA PeeWee through his basketball guard position at TCU and on to adult league softball. He worked in the wholesale Pharmaceutical Industry until 2000, a career he loved because of his co-workers and the many friends he made at the pharmacies he serviced throughout the metroplex and surrounding areas. He was living in Grand Prairie during this time. Besides the love for his family and friends, Alan enjoyed sports, music, traveling, fishing and a friendly game of poker or an evening at the blackjack table. He cherished his childhood friends and coaches and looked forward to their annual "guys weekend getaway." He enjoyed telling jokes or stories that would cause a smile and laughter to anyone listening. Alan can best be described in two words: Faithful and Dependable; if he loved you, it was deeply and if you were his friend, it was for life.
Alan is Survived by his wife, Mary; daughters Allison Dunaway-Osborn & Lolly Lroy; Mary's son Kirk Berry & wife Tiffany; his sisters & brothers-in-law Kay & Bill Smith, Gayla & Kevin Howell, grandchildren, aunts, uncles, special nieces, nephews, other relatives, numerous friends and his most beloved and loyal companion Sunshine.